American Industrial Mining

Company Museum

Preserving Our Mining and Industrial Heritage
A 501(c)(3) Non-profit preservation, restorations and education organization
BALCO Inc. Locomotives
Electric Storage Battery, Trolley, Diesel and

underground personnel carriers

Blairsville, Pa
Information gathered from AIMCo's archives
In memory of Jess Bartholow Jr
1972-2017 (Currently manufactured as Irwin Car & Equipment)
200 + Locomotives built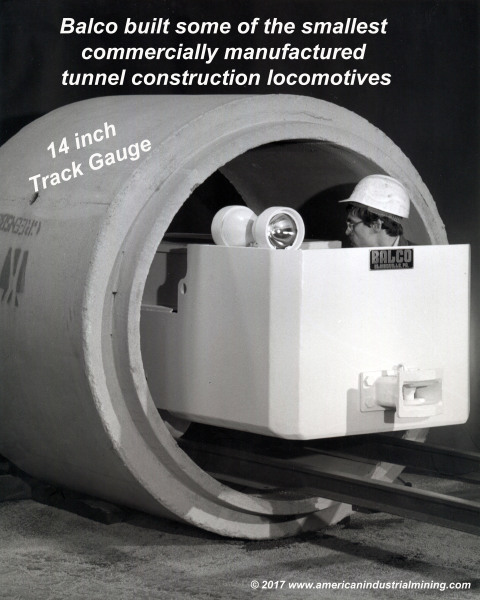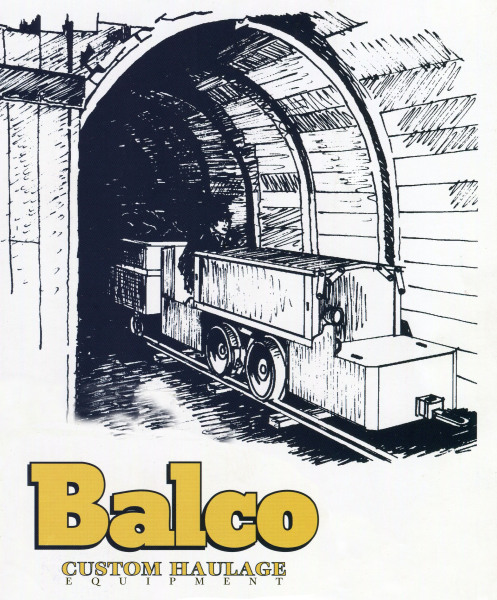 Jess Bartholow Jr. started his locomotive career at National Mine Service Ashland, Ky in 1960. NMS was the predecessor to Greensburg Locomotive. Jess worked primarily with the Marietta Miner line and export products to Australia with NMS.
In 1971 Jess & Michael Bartholow the Father and Son Team formed J & M Parts Sales supplying parts for coal mine machinery. Jess's younger son Kevin entered into the business in 1984 and operates the facility to this very day as the Locomotive Product Manager for Irwin Car & Equipment. Kevin Bartholow carries on the family legacy for locomotive building.
BALCO sold the product line to Irwin Car & Equipment in 2001.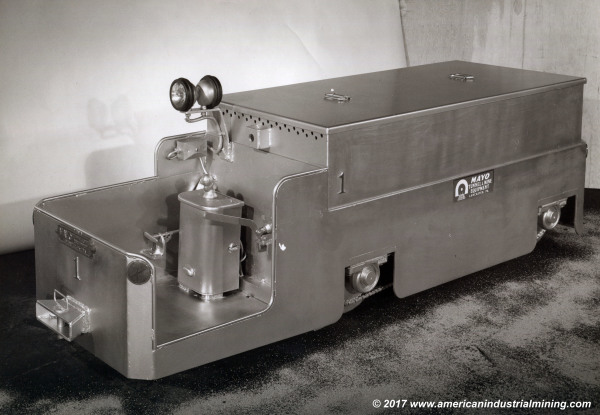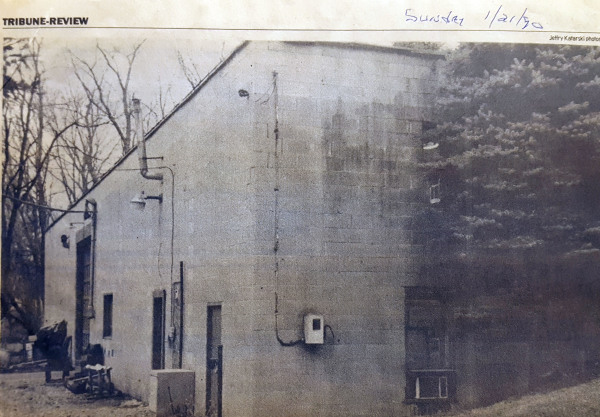 Pictured above is the very first storage battery locomotive built by the Bartholow team CN#72100 shipping June of 1972. It was a 1-ton unit with an adjustable track gauge from 14-18 inches for Cooper Contruction (Tunnel Construction). The 1st shop was basically a garage utilizing a welder that they had purchased from Sears.
The second shop located at 215 King Terrace in Blairsville, Pa has since been torn down. Balco built locomotives from 1974 to 1990 at this location. Trucking the heavy locomotives on the local city streets became an issue as the buiness grew. A new facility had to be built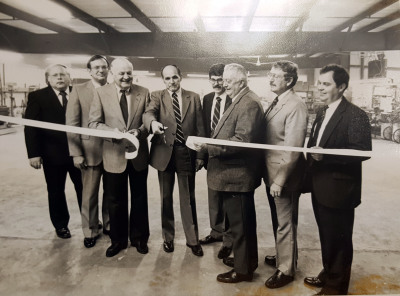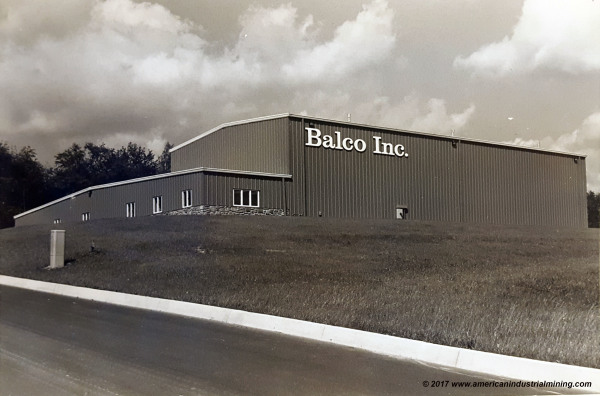 Pictured (L to R) Allen Brady, Johnston Glass, Pa Sen. Patrick Stapleton, Jess Bartholow, Michael Bartholow, State Rep. Andrew Billow,

Ronald Johnston & Don Hauger.
One of the most monumental moments for the growing Balco Locomotive line was the construction of the new manufacturing facility in 1990 located in the Blairsville Industrial Park. Pictured above is Jess Bartholow conducting the ribbon cutting ceremony. In 1990 the company employed 18 people. Balco reached to 24 employees at the height of full production.
BALCO Locomotive Models
Ranging from 1 Ton to 30 Ton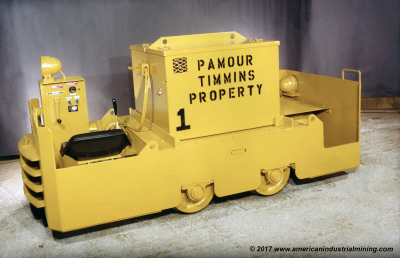 Balco's Smallest Storage Battery Locomotives
1,1.5 ,2 & 2-1/2 ton models (Single Motor)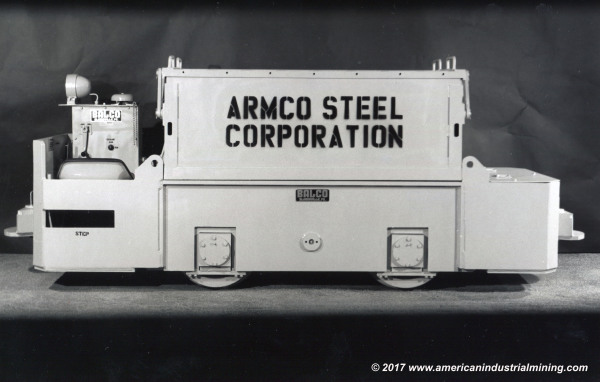 Balco Storage Battery & Trolley Locomotives
4,5, 5-1/2, 6 & 9 Ton Models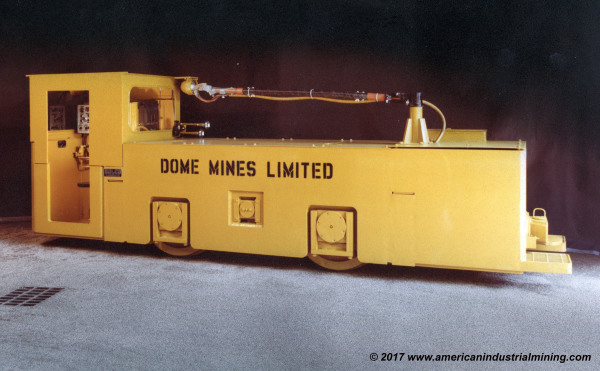 Series 1000,1200,1400,1500, 
Balco Storage Battery & Trolley Locomotives
10 , 12, 14, 15, 25 & 30 Ton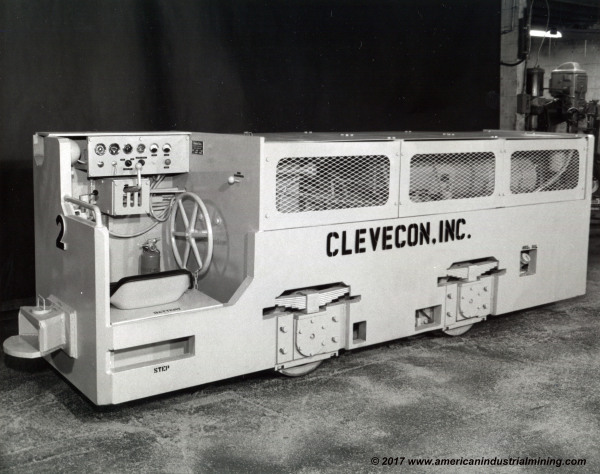 Balco's Diesel Hydraulic Locomotive Series
Ranging from a 14 inch gauge 3 ton to 25 ton.
BALCO Locomotive milestone achievements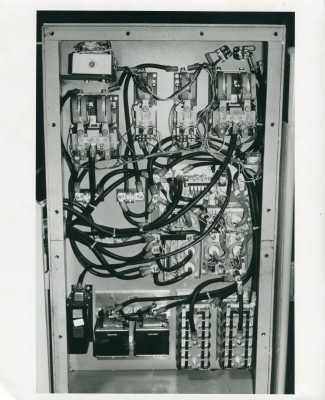 1972 Jess & Michael Bartholow were the very first to implement the use of a SCR Control (Solid State Control) to eliminate the use of a drum or cam tactor control system.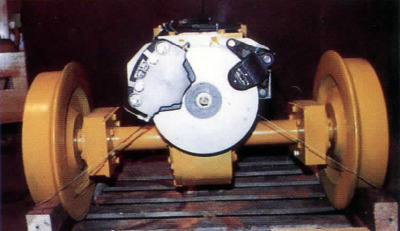 1973 The Bartholow team were the first to implement the use of hydraulic disc brakes to reduce maintenance as compared to the tradition wheel tread mechanical steel brake shoes.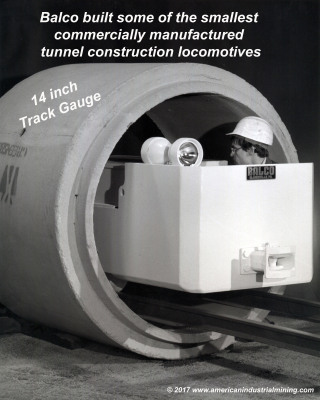 Mini Battery tunnel construction locomotives. These units were able to operate in a 48 inch diameter concrete pipe.
 

TUNNEL CONSTRUCTION PROJECTS
Los Angeles Subway Construction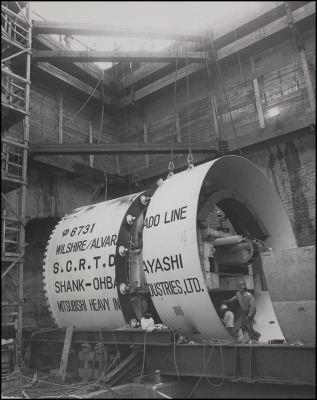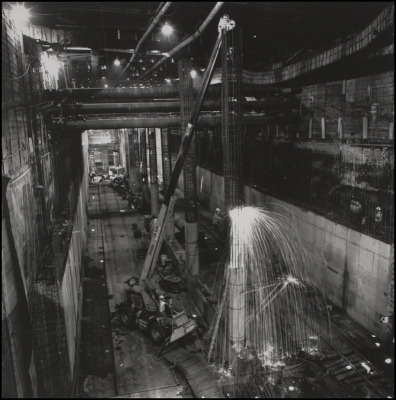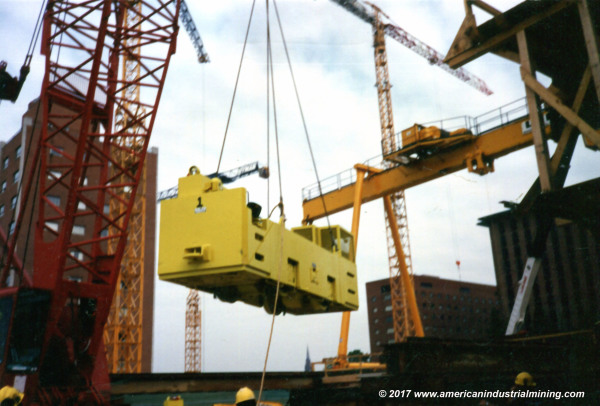 Baltimore Subway Construction
BALCO manufactured               (7) 28-ton Storage Battery Locomotives for the




Kiewit-Shea Baltimore Subway construction project in the 1990's.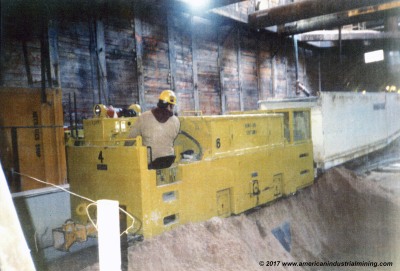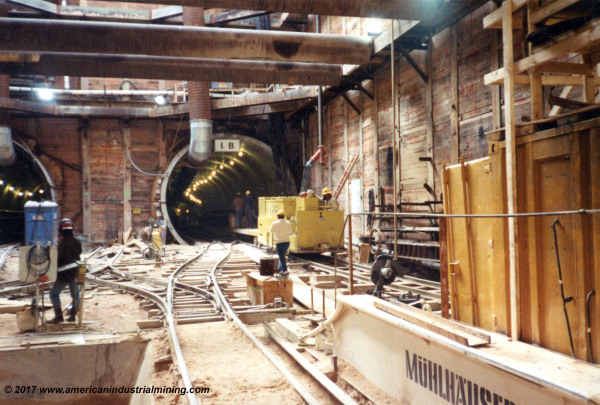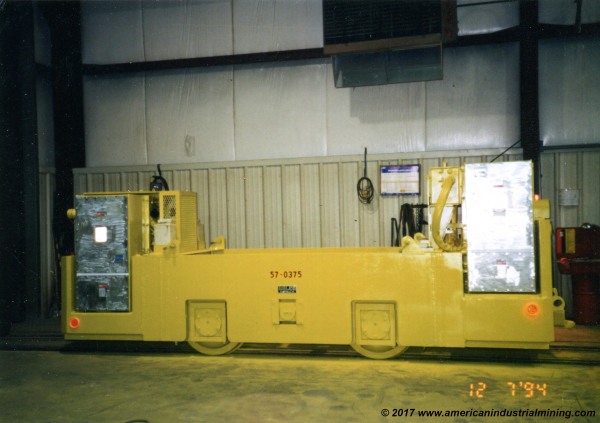 The construction project encountered a unique problem. The tunnel encountered an old gasoline storage tank left behind from an old service station that was not on the prints. The soil conditions were enriched with gasoline. The project was quickly halted and the locomotives had to immediately be retrofitted with

an EP Control system (Explosion Proof).

BALCO Underground Mine Locomotives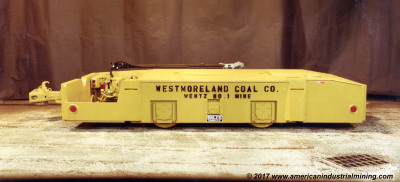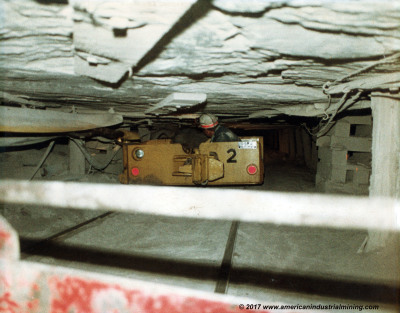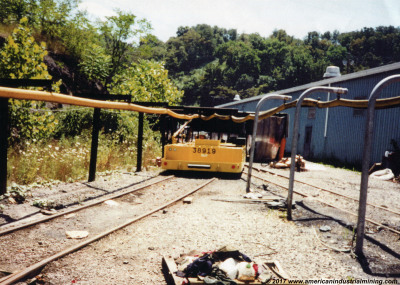 Sunshine Mining Co.    Osburn, Idaho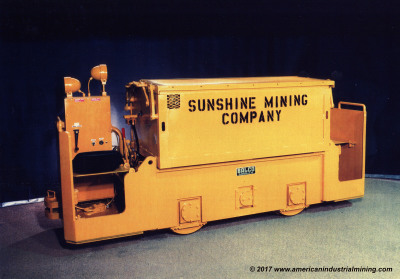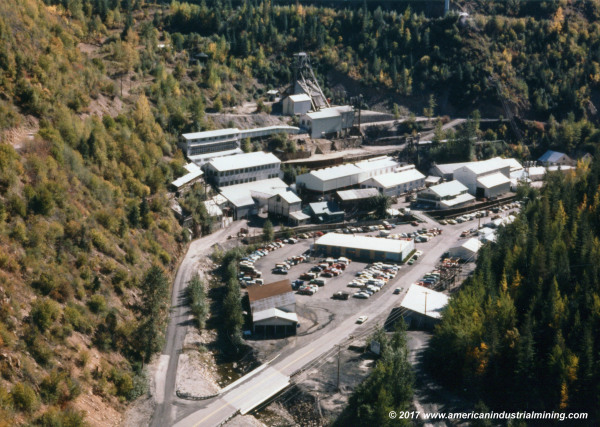 Balco built (8) 18 inch gauge locomotives for the famous Sunshine Mine 2 & 6 ton models.
BALCO Rail Jeeps 
Underground Mine personnel carriers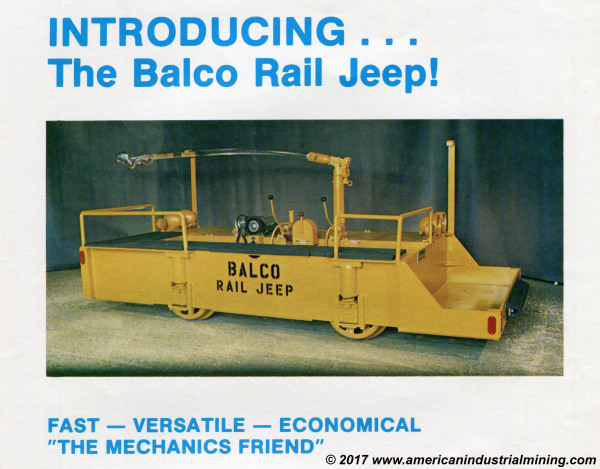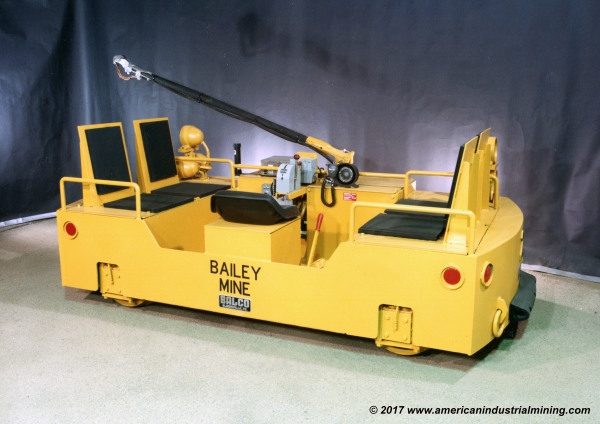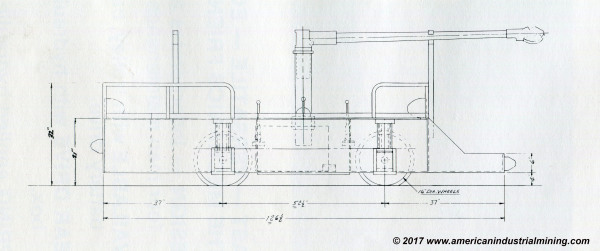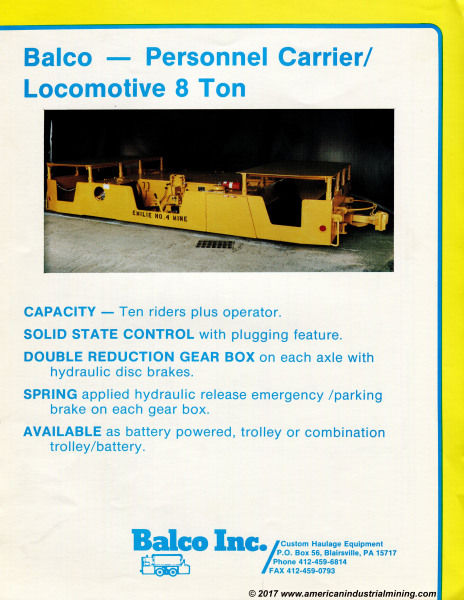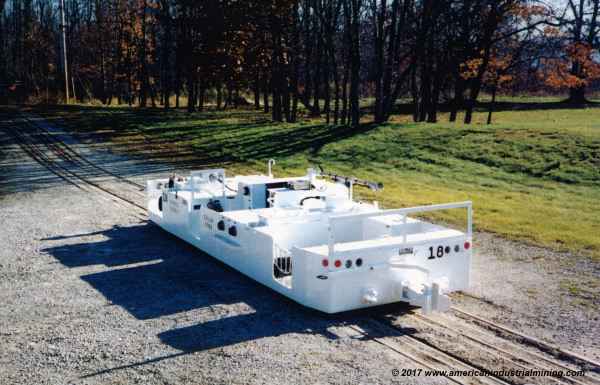 A 14 ton Balco maintence style jeep for Consol Energy Enlow-Fork Mine fresh out of the paint shop. Test running is perfromed on a multi-gauge test track located behind the manufacturing facility complete with a 5% grade. This unit was built in 1995.