American Industrial Mining

Company Museum

Preserving Our Mining and Industrial Heritage
A 501(c)(3) Non-profit preservation, restorations and education organization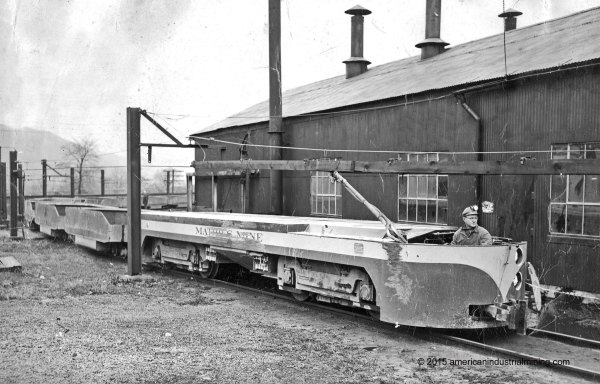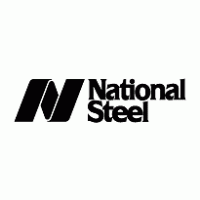 Mathies Mine located in Southwest Pennsylvania (Washington County).
Pittsburgh Coal Company began construction in 1943 of the largest and most modern mine at the time. Pittsburgh Coal Co. was the operator for National Steel who owned the reserves.  The name of the mine was actually named MINGO MINE at first. It started at the Monogahela River just north of New Eagle, Pa utilizing the old workings of the Cincinnati Mine, Courtney Mine and Star Mine. A heavy duty 2 track rail haulage tunnel was installed in 1943 through the old workings to connect to the new mine. A 50 year projection life of the new mine.
The mine was officially named in the fall of 1944 Mathies Mine on behalf of the famous war hero from nearby Finleyville Staff Sgt.  Archie Mathies.  The reason why the name change was chosen was that S. Sgt. Mathies did a duty the same as the tradition of the mine "Laid down his life for that of a friend".  S. Sgt. Mathies previously worked 3 years at the Champion #2 Mine. S. Sgt Mathies was awarded the Congressional Medal of Honor for attempting to land a Flying Fortress in Europe after trying to save the life of his pilot which was critically wounded. A majority of the crew survived when they were able to parachute to safety while S. Sgt. Mathies made 3 attempts to land the plane but on the 3rd attempt crashed in Feb 1943.
FUN FACT
: This Mine was the United States rail haulage model mine that set standards and records above all others. The locomotive picture above shows just how progressive this mine was. It was the first 50 ton haulage locomotive built by General Electric. The main haulage line was approximately 16 miles underround. To make transporting mine cars at that distance cost effective large motors were the only solution. This was also the last mine to use main line rail haulage in Pennsylvania. The last run was in 2001. 
Mathies Coal Co. operations in 1975 had an impresive inventory of equipment:
(49) Locomotives 44 inch gauge track
(420) Mine Cars at one time had as many as 609 Mine Cars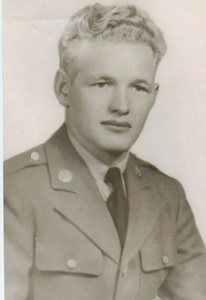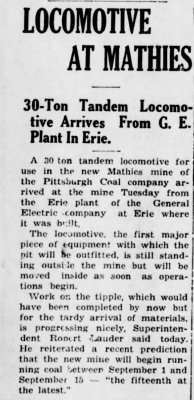 size of Manhatten 47 sq miles